Murder Mystery Party Perth
We have hosted murder mystery parties all around Perth from Peel Manor House, to the Crown Casino, to the Fremantle Esplanade and many more. Do you need help with organising a murder mystery party in Perth? We are the best in the business and offer the most outstanding range of murder mystery games.
What do I do now to organise my murder mystery party Perth?
Click one of the game links below to start exploring your Perth murder mystery party options.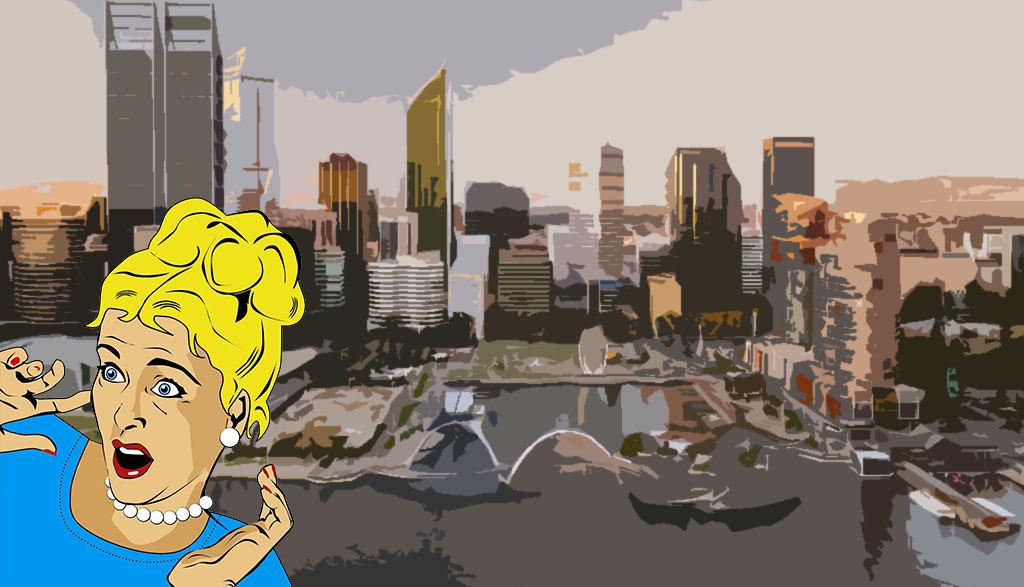 Murder Mystery Party Perth
Why have a murder mystery party in Perth?
Perth has beautiful weather. The nights are warm, clear and dry and a murder mystery party Perth is a fabulous way to have fun with your friends. Living in Perth is a Joy. The city is beautiful, people are amazing, houses are huge, and backyards are well-maintained. Use the benefits of living in Perth, Australia, and throw an evening party or a dinner that is both filled with suspense and excitement? Our agenda is to provide you with amazing mysterious games that are exquisite and will be remembered for a long time.
What makes us different in Perth? Our company is aware of how important it is for a person who throws a party to have a hit and every single person enjoys each phase of it. There are lots of people who want different mystery themes in Perth and we provide this service with our Premium and Dinner Edition games. Other than that, our policy is to be quick with orders, so we have "downloadable games" and "boxed games".
Get your adventure cravings taken care of..
Are you tired of the same old formal lunch and dinner gatherings? Want your work functions to be a bit more fun and exciting? Well, you have just located the best place to take care of your adventure cravings. We are the best at our jobs, giving you an astronomical range of ideas for planning your murder mystery themed party.
Why murder mystery parties are great!
Sometimes when you have a party or a work function it can be a little awkward. Maybe people do not know each other and you need to break the ice. A murder mystery party is a really fun activity to get the party going.
How long does a murder mystery game take for delivery to Perth?
If you get a downloadable murder mystery game you will receive it instantly. Games to the Perth metro area will take 1 to 2 days to arrive and murder mystery games to regional Western Australia will take 2 to 7 days to arrive.
Why should I have a murder mystery party?
I think there is something biological about a murder mystery party. Our prime evil urge to kill is always present but now you can fulfil that urge without going to gaol!
Where you can hold a murder mystery party?
A lot of Perth houses have lovely big backyards or big undercover areas. Many Perth houses have open plan lounge and dining areas that can also be perfect for a party. If you don't want to have the party at home, many venues offer a free room or you can pay a hire fee.
How to decide on your murder mystery theme.
Look at our huge range and pick the theme that gets you excited.
Can you recommend a murder mystery venue in Perth?
You can try our list of Perth based venues https://murdermystery.com.au/function-rooms/perth
The City is fully stacked with places that are an ideal location to organise a murder mystery party. Since you want something amazing we have listed some venues out just for you. Aristocrats on King Street, AEG Ogden (RAC Arena), The Bell Tower, Belvoir Homestead and Burswood on Swan are all great.
Do you have murder mystery hosts in Perth?
Yes we maintain an amazing list of murder mystery hosts in Perth. Click this link to view https://murdermystery.com.au/murder-mystery-actors-for-hire/western-australia
What does it cost to have a murder mystery party in Perth?
First you need to get a murder mystery game and they cost between $40 and $550. Next you need a host or you or a friend can run the party. A host will cost between $250 and $500 depending on factors like the size of your group. This can be as low as $2.30 per person including hosting.
Benefits of murder mystery parties?
Murder mystery parties get people up and mingling and make it easy for your guests to talk.
How you can decorate for a murder mystery party?
When you order your murder mystery game you get a full list of decoration ideas. You can also search on Google or Pinterest for great ideas.
What food you can have for a murder mystery party?
You can have any food you like but finger food is best. So that the food doesn't distract from the game, platters etc. are the best option.
How long have you been running murder mystery parties in Perth?
We started in 1990. Our company has been working for years now to provide high-quality products for your party and the most suspenseful and thrilling Murder Mystery Party Games.
What to Expect?
Our murder mystery party games are blended with mayhem, laughter, fun, team building and of course murder! Customers are to expect a mixture of mayhem, humour, and mystery in a murderous and mysterious adventure. Click a game link to learn more.
Surprise Your Friends with a Themed Party
Our murder mystery games provides all the materials required to organise a themed party to surprise your group of friends, workmates, or families. Our website has pre-planned murder mystery themes to choose from according to your requirements and taste. Hire us, and we promise you that you will have a gathering which is worth every penny. The objective is simple, spread murder, and spread the fun.
We offer a list of murder mystery hosts in Perth who play some out of the box characters. Alternatively, if you want it to be a private party, then just download our Premium or Dinner Edition games. We have "downloadable games" and "boxed games," and we are quick with our orders. Murder mystery parties help the most timid of guests to also join in the conversations and gets the party sailing smoothly.
So no need to worry. If you are organising a party in Perth we are here to help!
A memorable murder mystery party is here
If you are an exhibitionist and want to party the night away, we have got some great ideas for you! Choose from the wide variety of events you can have. You can plan a quiet dinner and huge barbeque, host a backyard cook off or a simple mystery dinner event.
If you plan to have a karaoke party, you are guaranteed to have a great time just have it after the murder mystery. Why not go on a fabulous mystery drive that ends in murder?
BONUS: You can also plan a more unusual excursion if you have the time of course. Maybe you plan to visit a tea room or a pizza place? Or perhaps you have some interest in handicrafts? Do you want to see something cool and unusual? Maybe you just want to hike your own mountain? But of course end with a murder mystery party.
A fantastic trip can be achieved by everyone in your group. Be sure to include your loved ones in the activities you plan to do. As crazy as it may seem, your friends and family will be more than willing than you think.
Look into the latest location for your party. You can get more details from the location directly to the location. This will let you know what things to expect. Try to stay up to date on what activities will be happening as well.
Start thinking about your venue, decide what murder mystery game you want to do and have a great time.
© 2021