Murder Mystery Party
A murder mystery party is the best way to have a killer of a good time with your friends, family and workmates.
You will laugh together or possible die or murder together.
As the saying goes "friends that murder together... something, something". I'm not sure wbut you will have a wicked time.
Imagine this, your boss is called out the front and then tragic news is discovered! Your boss has been poisoned, shot, stabbed, strangled or perhaps beaten to death. Yay! It is a long weekend for everyone. Of course now the work starts as the murderer is lurking around and could kill again if you don't catch them.
A murder mystery party is a lot of fun and you will love having one. Click the murder mystery games below to learn more.
Our Murder Mystery Party Games
Click a game to learn more
Boxed and Download - Adult murder mystery games
Download Only - Adult murder mystery games
Teenager murder mystery games
Adult and teenager party games (no murder)
Kids' party games (no murder)
Mini F.A.Q.
How much do the games cost? Click the mystery game images above to see prices.
Do we need a host? It is up to you. You purchase a game from us then run it yourself or hire a murder mystery host in your state.
Are you available on...? Click hire a murder mystery host. Contact the hosts directly to check their availability.
Does everyone get their own character? Sure do. All get a character badge and in most games each character gets a small backstory.
What do I get? Our murder mystery games contain from 100 to 300 items to make your party amazing.
Can I ask questions? Yes please. Click "Contact Us" above.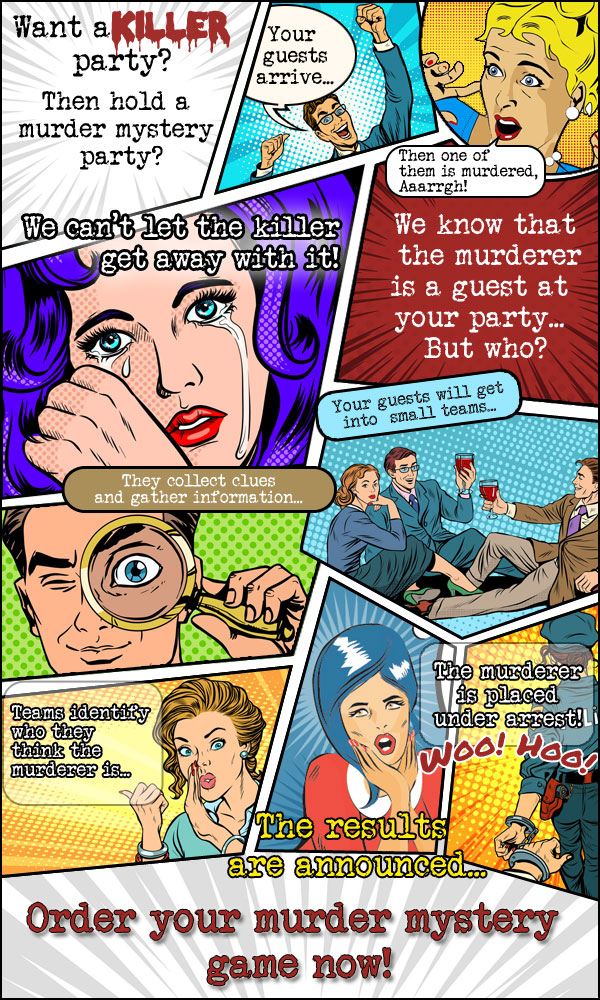 Want to Find the Hidden Sherlock in Your Friend Circle?
Every group of friends or workmates has one or two hidden Sherlocks in them, and what better way to bring them out in the open than a murder mystery party? Imagine, the murderer is insane, psychotic, and you never know who the next target is. Feeling jittery already? Well, here's the solution, experience it first hand by hiring us.
Get the professionals to help. We are a group of professionals who have been hosting parties since 1990 in Australia, and we can cater to any of your needs. Kids oriented mystery parties (no murder involved), a murder mystery for bachelors or hen's nights, a mystery theme for a group of close friends or even workmates, we have it all. All you need to do is contact us. We will be right at the doorstep with a group of people that are very much experienced on how to make your weekend awesome.
Alternatively, if you don't want to hire us you or your friend can be the host. Just download the murder mystery theme of your choice and get help from our advisors. Kick out all the "if's and but's" from your mind and give us a call right away. We are a bunch of people who love their jobs a lot, and so we spread fun and help you have a good time with your family, friends, or colleagues.
Enjoy a family murder mystery party
It's a sunny day and you want to go out with your friends. You think of places you have been and places you would like to go, but no matter how you think you are always brought to a stop by "There's been a murder in the family" or "There's been a break in at the house".
You can't help but to ask: "Who died?"
Well there is a way to find out but it's not for everyone. A murder mystery party with your family can make for a very exciting event. You can even make a public accusation to those at your event to help locate the killer.
Accusations help families track down the killers of their loved ones as a fun part of the game. If there is something you forgetting, then you should create a map of the events.
A homicide secret party is the most effective way to have an enemy of a great time with your companions, family and coworkers.
You will giggle together or conceivable pass on or murder together.
As the maxim goes "companions that murder together... something, something". I don't know wbut you will make some insidious memories.
Envision this, your manager is gotten down on the front and afterward terrible news is found! Your supervisor has been harmed, shot, cut, choked or maybe pounded into the ground. Whoopee! It is a long end of the week for everybody. Obviously now the work begins as the killer is prowling near and could kill once more in the event that you don't get them.
A homicide secret party is loads of tomfoolery and you will cherish having one. Click the homicide secret games underneath to find out more.
© 2022